31st Annual World Of Coronation Street Tour
31st Annual World Of Coronation Street Tour Plus Norwegian Epic Mediterranean Cruise
August 22 – September 6, 2020
Itinerary
Saturday, August 22 – Depart for England and the "World of Coronation Street"
Meet your fellow group members at Toronto Pearson International Airport and embark on your flight to Manchester.
Sunday, August 23 – Cocktail Reception and Dinner
Upon arrival at Manchester airport we will be transferred to our city centre hotel by coach. There's time to settle in – rest or unpack- before we meet for a welcome reception and an early informal dinner in the hotel.
(D)
Monday, August 24 – Manchester City Sights
Your guide will show you the sights and history of Manchester as well as several Coronation Street filming locations from the past sixty years!  You'll have free time to explore the modern dockside Media City area before returning to the hotel mid-afternoon.   In the evening, it's time to have your cameras at the ready for nearby relaxed pub dinner with a special surprise guest!
(B, D)
Tuesday, August 25 – Beamish Museum
We're off to Northumbria today to spend time at the multi award-winning open-air museum, Beamish. You can explore at your own pace the working Victorian town, the colliery and mining village, Georgian hall, wartime farm, ride the vintage buses, trams and trains and much more!  We'll arrive back at the hotel during the evening.
(B, A)
Wednesday, August 26 – Studios & Trafford Centre
It'll be a later start today … but what a start!  First call is an exclusive tour of the Coronation Street set – you'll walk the famous cobbles and see inside many of the interior sets as well! Then it's a quick hop to the Trafford Centre, the area's largest indoor shopping mall, for some retail therapy. We'll arrive back at the hotel in time for you to change ready for a short stroll for dinner at a city centre restaurant owned by Corrie's very own Jennie McAlpine who plays Fiz.
(B, A, D)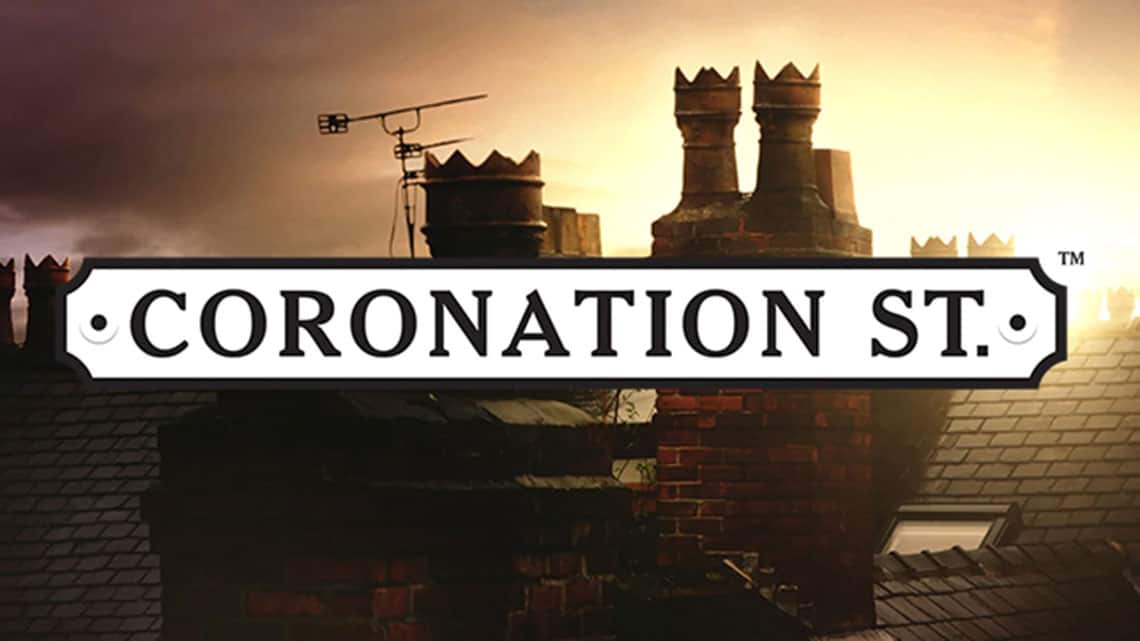 Thursday, August 27 –  Peak District -Speedwell Caverns
Today we enjoy a scenic drive through the stunning Peak District making a call at the Speedwell Caverns (which featured in Coronation Street back in 1964!) You'll travel by boat through the amazing underground caverns – and get the chance to buy a unique souvenir – some Blue John stone which is mined here and which is a favourite of HM The Queen.
Afterwards we'll take lunch in a near-by village before learning of more of the area's Corrie connections.  The evening is free for you to explore Manchester on your own.
(B, A, L)
Friday, August 28 – Corrie Locations & Gala Dinner
Your expert guide will take you to several Coronation Street filming locations around the city today whilst recalling some of the most memorable storylines and characters from the last six decades.  We'll stop for morning coffee and cake at a family-owned garden centre and have free time to explore one of Greater Manchester's many town centres at lunch time.
After a bit of free time to rest up and start packing, we'll head to a nearby grand hotel for your gala dinner with surprise VIP guest.  (B, T, D)
Saturday, August 29 – Manchester – Barcelona
Early morning start for Manchester airport for your flight connecting in Europe for Barcelona. Upon arrival in Barcelona late afternoon transfer to  your city centre hotel for a free evening to explore the city or relax.
(B)
Sunday, August 30 – Barcelona, Spain (Embarkation) – Depart 6:00 PM
This morning enjoy some free time  before we transfer to Norwegian Epic- your home for the next 7 days.  The capital of Catalonia -Barcelona is a place of palpable history, where you can lose yourself strolling down the medieval streets of the Barri Gotic. It's a city designed to delight the senses. V visit other-worldly Modernista churches like Gaudi's La Sagrada Familia or treat yourself at a street side cafe to Patatas Bravas or a Passion Fruit Mojito.
(B)
Monday, August 31 – At Sea
Tuesday, September 1 – Naples, Italy – Arrive 7:00 AM,  Depart 7:00 PM
Cruise to Naples, located on Italy's stunning Amalfi coast, a city rich in history. Today you may choose an optional tour around Naples' grand piazzas, cathedrals and castles in the old centre will take you back centuries. Pompeii is not too far either, a dashing city which boasts diverse cultural offerings and charming streets.
Wednesday, September 2 – Rome (Civitavecchia), Italy – Arrive 6:00 AM,  Depart 7:00 PM
Tour options are endless adventures awaiting in Rome. With two and a half thousand years of history, art and culture, it is no wonder Rome is one of the most visited cities on the planet. Gaze at the masterpieces of the Vatican or walk into the past with visits to ancient relics, historic monuments and legendary museums. Or people-watch while sipping on an espresso in a quaint cafe.
Thursday, September 3 – Florence/Pisa (Livorno), Italy – Depart 7:00 AM Arrive  7:00 PM
How lucky to visit the Tuscan region, Florence & Pisa, resplendent in art and history. When choosing your shore excursion option today consider what's even more fortunate is that all the main attractions in Florence are centrally located for the perfect walking tour. See Santa Croce, Piazza del Duomo and Michelangelo's David.
Friday, September 4 – Cannes, France – Arrive 8:00 AM, Depart 6:00PM (tender)
Shore excursion options abound – perhaps a tour where you drive up Suquet Hill for a view of the city, sea and Lerins Island – fabulous dahling! How many rich and famous can you spot, walk the palm-lined promenade de la Croisette and count. The French Riviera at its best … the International Film Festival calls this home.
Saturday, September 5 – Palma, Majorca, Spain – Arrive 1:00 PM,  Depart 8:00 PM
Last day to pick your choice of optional tours where on the one hand, this city, founded by the Romans some 2,100 years ago, is replete with (literally) wall-to-wall history and architectural splendour. You can journey back in time and wander the mazes of alleyways and cobblestone paths that surround the Gothic cathedral. On the other hand, Palma is bustling with life, showcasing the island's best restaurants, shops, nightlife and a vibrant art scene.
Sunday, September 6 – Barcelona, Spain – Disembark 5:00 AM
All good things must come to an end so it's farewell to the Mediterranean as we dock early in Barcelona and transfer to the airport for our return flight to Canada.
Please Note:
Disembarkation usually begins 2 hours after docking.
Due to security reasons, all guests must be on board 2 hours before sailing.
Itineraries are subject to change at any time without notice.
Check your specific sailing for exact departure and arrival times. All times are local to the port.
Optional group Shore Excursion details available Spring 2020.
Tour easy payment plan available in 4 easy installments –
Deposit + Jan 31, Mar 13 and April 17, 2020 – ask for details.
ENQUIRE ABOUT THIS TOUR