DAY 1 – Aug 26, 2019
Travel to Souris, PE where you will board the ferry to the magical Magdalen Islands. Relax during your five-hour journey to this unique part of Quebec. Spend the next three nights in the heart of Cap-aux-Meules.
DAY 2 – Aug 27th, 2019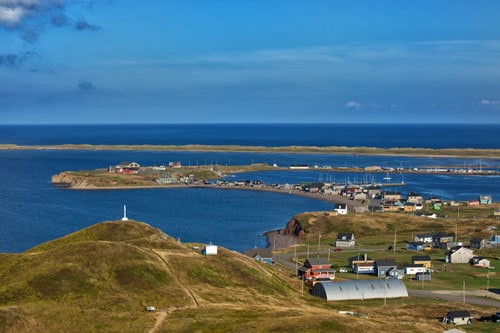 After your continental breakfast at your hotel, your guide will take you across the Chemin-des-Montants where you will discover a small valley with a few houses. From there you will see one of the most beautiful panoramic views of Havre-aux-Maisons. You will also stop at Dune-du-Sud where red cliffs sculpted by the sea shelter this beautiful red sand beach. Don't hesitate to explore the caves during low tide and take some pictures of the gorgeous scenery.
Lunch this afternoon will be on your own. We will give you time to explore la Site de la Cote. Here we will find several boutiques and craftsmen; the coffeehouse "la côte" holds a terrace with a magnificent view on the fishing harbour. You will be able to walk around and have a chat with the fishermen. Nearby you will find the art gallery, le Flâneur, where you will find a display of painting and handmade dolls as well as a tea room with a selection of over 50 different teas and fresh bread from the old-time outdoor oven.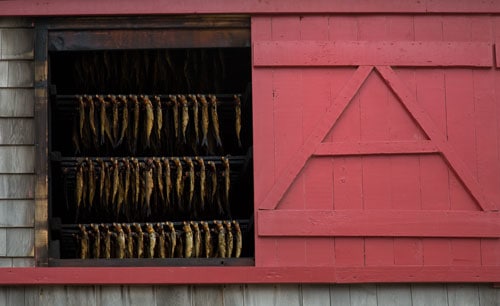 After lunch visit the fumoir d'antan (smokehouse). A guided visit, as well as a tasting, will allow you to discover this traditional smokehouse. The Arseneau family has been smoking fish there now for three generations; herring, either marinated or natural, mackerel and salmon. From there, take the short drive to visit the fromagerie pied de vent (cheese factory), an artisan factory of raw milk cheese. Produced here, among others, the «pied de vent" (the famous cheese with slightly washed crust) and the «tomme des demoiselles" (a dough of 6 months of refinement). Also, visit La Meduse Verrerie to see the island's glass blowing demonstration. Dinner tonight will be enjoyed at the Vieux Couvent, a well-known institution on the island. This newly renovated restaurant has impressive sights, looking upon Havre-aux-Maisons landscapes and sunsets, in a relaxed atmosphere. Comfort cuisine that emerges from the best ingredients the island has to offer. Several choices of meal will be offered to you. (B, D)
DAY 3 – Aug 28th, 2019
After breakfast at your hotel, visit the Museum of the Sea. Learn the importance of the sea to the Madelinots' way of life through displays and artifacts. Also, visit La Grave – once a favourite meeting spot for fishing and commerce – is now home to many artisans and craftspeople. Today's lunch will be at Café de la Grave. After lunch, travel back to Ile-du-Cap-aux-Meules to enjoy your Caves and Cliffs boat tour where you will learn about the history, geology, and birds, along with storytelling from your local tour guide.
From the boat tour, Dinner this evening will be at the restaurant in your hotel. (B, L, D)
DAY 4 – Aug 29st, 2019
Travel homeward today! Set sail back to Prince Edward Island after breakfast and later back to NB.