Saint John Jewish Museum / Skywalk Tour
Saint John Jewish Museum / Skywalk 3 Hour Tour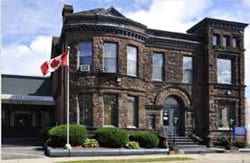 Departing from the pier area, it's a  short drive to the Saint John Jewish Museum, housed in a late Victorian mansion with a rich history of its own. The Museum is connected to the sanctuary of the Congregation ShaareiZedek, which at its peak numbered over 1400 members.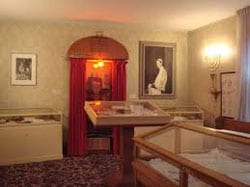 During your approximately 45 minute tour, your trained guide will show you several of the permanent exhibits, and explain how the museum collects, preserves, and displays the history of the Jewish community of Saint John. You will have the rare privilege of having the Ark opened for you to observe the century-old Torahs with their traditional silver adornments. Discover the Religion Room, where displays explain many Jewish holidays and customs, illustrated with artifacts from the homes of members of the Jewish community. Examine the small but authentic Hebrew School, including half-century-old desks upon which generations of students carved their names. You can even watch a short video on the history of the Jewish community.
After leaving the museum, your tour guide will meet you for a tour of nearby Orange Street. See homes built by prominent local citizens, both Jewish and non-Jewish, to glimpse another aspect of Saint John's once flourishing Jewish community. Then it's a short drive to visit the Reversing Rapids to go back in time. This geosite is within the Stonehammer Geopark.
The gorge was created by powerful natural forces as the last ice age receded exposes the meeting of two ancient continents. The formation of the gorge now creates a tremendous force between the power of the Bay of Fundy tides and the huge 6773 km long St, John River that originates in Northern Maine. As the tide rises, it actually forces the river upstream.
We then go to the Reversing Falls Restaurant  where you enter the elevator to the rooftop theatre. The theatre includes a 12 minute film which explains the Reversing Falls Rapids phenomenon, the geology and history of the area. After the film, venture onto the large rooftop deck and SKYWALK observation platform featuring several transparent floor panels and a great view.
The strategic location of the platform provides a unique view of the Reversing Falls Rapids. If you see water flowing normally downstream then the dominating tidal condition is low tide, calm waters indicate slack tide and reverse flow indicates the tidal condition is most influenced by high tide.
SKYWALK also provides a great view of the city and "uptown" skyline. From here, it's back to the Saint John City Market, the oldest continuously operating market in Canada. Then it's back to the ship.
BOOK THIS TOUR