An unbelievable train journey through four countries in Southern Africa.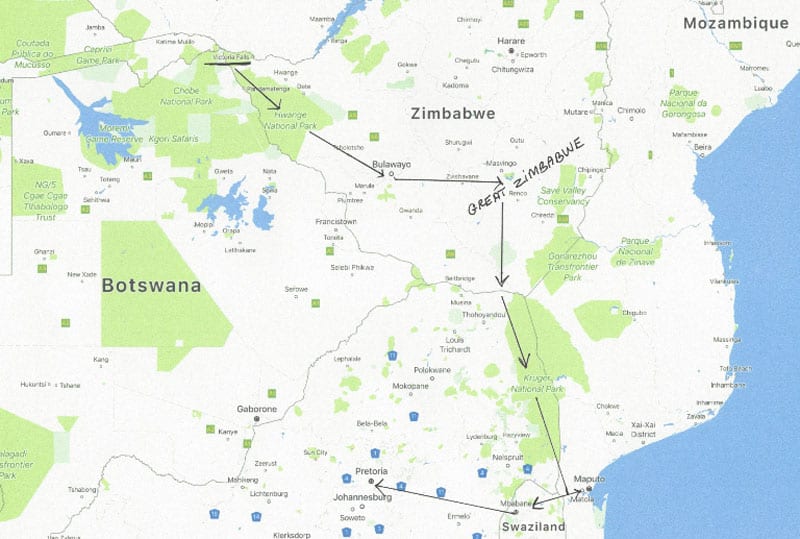 One train journey – and four African countries! Discover the incomparable diversity of sights in South Africa, Swaziland, Mozambique, and Zimbabwe. Look forward to such highlights as the legendary Kruger National Park and the Victoria Falls on the mighty Zambezi River, as well as a host of sights off the standard tourist trail, including Mozambique's capital Maputo; also, the Matobo National Park, Zimbabwe and the ruined city of Great Zimbabwe.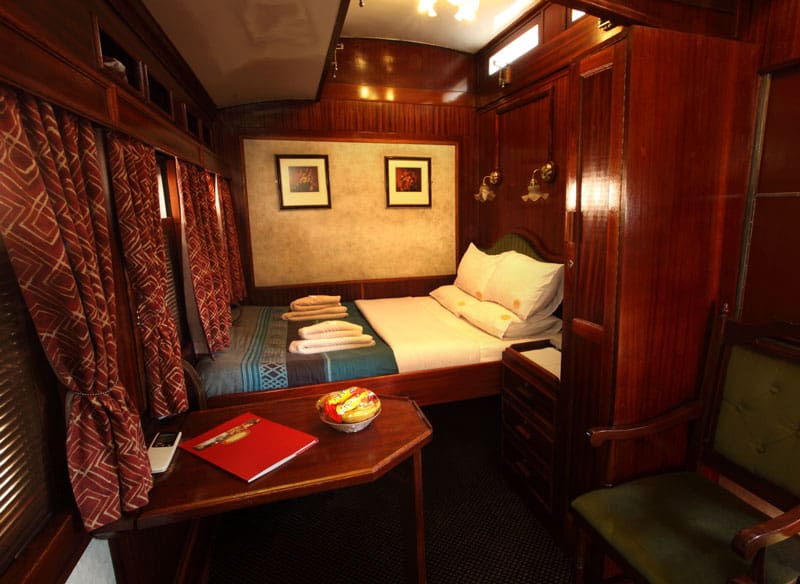 This private train journey takes you through inspiring and constantly varied landscapes – and all without the hassle of inland flights or having to re-pack suitcases every day. With the African Explorer usually covering long stretches of the route at night while you sleep peacefully in your private compartment, there is more time for memorable excursions during the day. Enjoy exploring the fascination of these four countries – as well as the extended wildlife safaris!
The Train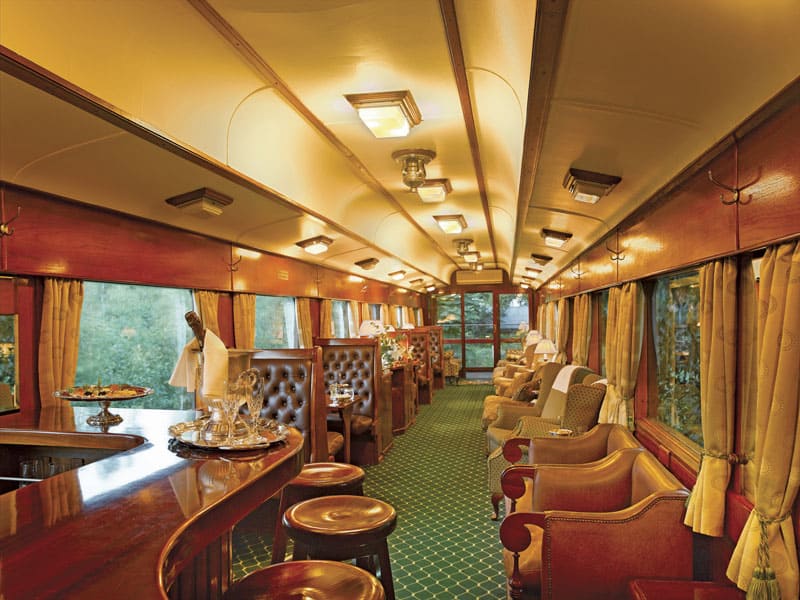 The rolling stock went through a thorough renovation in 2016. The train was known as the Shongololo (centipede) and had been doing the dusty tracks of Southern Africa for years making lots of tourists very happy. The famous and privately owned train company Rovos, named after its owner Rohan Vos, purchased the Shongololo in January 2016 and added it to its fleet of diesel and steam-powered trains. 2019 is Rovos' 34th year of operation.
Details
5 Leopard category coaches with 3 compartments each with a comfortable sitting area
5 Elephant category coaches with 5 compartments each
Both categories are en-suite w/ either twin or double beds
1 bar/observation coach, 2 dining coaches, 1 supply coach
Total: 14 coaches and one locomotive.
Max number of beds: 30 Leopard and 50 Elephant.
Bed sizes:

Leopard: Twin: 6'11" x 2'6″.  Double: 6'3″ x 4'9″
Elephant: Twin: 6'3″ x 2'8″.  Double: 6'3″ x 5'3″

Compartment sizes:

Leopard: 107 sq ft.
Elephant: 75 sq ft

All compartments have:

Windows that open with blinds and sun shades.
Individually adjustable air-conditioning
220V electric sockets (adapters provided)
Safe, closet, bedside cabinets and hairdryer
Complimentary toiletries and bottled water daily

Four-course meals and full breakfasts are served to the table in two dining cars. Additionally, there is a bar/observation car (the last car), which offers unobstructed views of the spectacular scenery.
Itinerary
Day 1: Arrival in Victoria Falls  (D)
Day 2: Touring of the Victoria Falls (B,D)
Day 3: SAFARI  Hwange National Park – elephants! (B,D)
Day 4: Matobo Park, Rock paintings, Cecil Rhodes grave (B,D)
Day 5: Great Zimbabwe, UNESCO World Heritage  (B,D)
Day 6: Soutpansberg Mountains, Limpopo River  (B, L, D)
Day 7: Visits to a sanctuary and endangered species centre (B, L, D)
Day 8: Drakensberg Mountains   (B,D)
Dy 9: SAFARI  Kruger National Park (B, L, D)
Day 10: Maputo, Mozambique  (B, L, D)
Day 11: Kingdom of Swaziland (B,D)
Day 12: Pretoria, S.Africa.  Nelson Mandela, etc. (B, L, D)
Day 13: Au Revoir Africa!  (B)
(Meals: B=Breakfast, L=Lunch, D=Dinner)
ENQUIRE ABOUT THIS TOUR