Bay of Fundy Trail – 6 Hour Tour
Our nature expedition starts from the city of Saint John where we will stop to have a look at the Reversing Rapids. Your guide will explain how the powerful force of the Bay of Fundy tides actually forces the mighty St. John River upstream at high tide. As we drive away from a populated area though the winding roads of the forests of New Brunswick, your guide will entertain you with stories of those who have lived and created a livelihood in this remote area.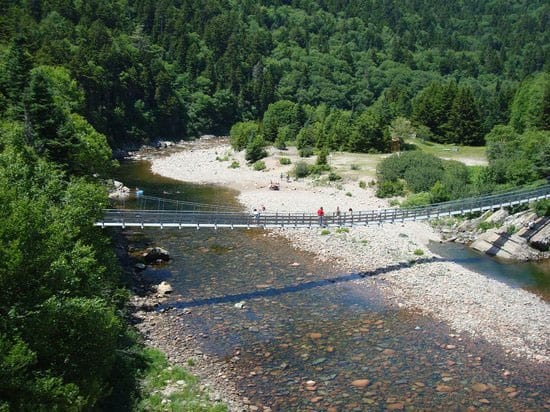 Fundy Trail is proud to be a part of Stonehammer UNESCO Global Geopark, the first Geopark in North America. Here you can get up close to the beauty of the Bay of Fundy. This Nature Reserve winds east from St Martin's for 30 glorious kilometres offering numerous viewpoints, picnic areas and beach access points. Numerous trails lead to waterfalls, suspension bridges and more sandy beaches..
Discover what life was like for the area's early settlers through several historic artifacts and displays at the Big Salmon River Interpretive Centre. Learn about the pioneers and their flourishing logging, fishing and shipbuilding past. Find out about the connection with newspaper magnate Willian Randolph Hearst. He visited here often.
From the Interpretative Centre, follow the Suspension Bridge Trail inland along the Big Salmon River. A short 5- minute easy walk, passing under the Mitchell Franklin Bridge, will bring you to a 284 m suspension footbridge. This walking bridge was the site the original covered bridge until washed out in a spring freshet.
Next get your cameras and eyes ready for the awe inspiring vistas along the trail. You will want to remember these views forever. Take advantage of the multiple scenic lookouts for spectacular views out over the Bay of Fundy, a body of water with the highest tidal range in the world. Explore connecting paths and descend stairways to walk along the pristine beaches and gaze up at the coastal cliffs. Be on the lookout for gorgeous waterfalls as well.
No trip to the Bay of Fundy would be complete without a stop in St. Martin's for a delicious bowl of the area's famous Seafood Chowder.
On the return to Saint John, there is an opportunity to revisit the Reversing Rapids to witness the change as a result of the tide change. Then we visit the oldest continuously operating City Market in Canada before returning to the ship.
Sign up now for this family-friendly tour of the incomparable, unforgettable Bay of Fundy.
Please Note: Guests must be at least 5 years of age or older and be able to descend and ascend stairs. Food and beverages will be available for purchase. Sorry no wheelchair availability.
BOOK  THIS TOUR