Day 1
Arrive at the Halifax Stanfield Airport. Upon arrival, pick up your rental car and start your drive to beautiful Baddeck. Depending on flight arrivals, start your vacation at the spa to get into vacation mode!
Day 2
Home to the world-renown Cabot Trail, Cape Breton has been named one of the World's must-see islands by the Travel and Leisure magazine. Travel the route to Pleasant Bay and Captain  Mark's Whale Watching at 2:30 pm. Wear a light jacket as the Trail can be chilly when you get out for picture opportunities. This evening – take in a famous local lobster dinner at 'Baddeck Lobster Suppers'. You will not be disappointed!
Allow a minimum of four hours for travel around the Cabot Trail.
Day 3
Today, you have the opportunity to explore Cape Breton a little more on your way to visit the Fortress of Louisbourg, which is a glimpse into one of North America's busiest 18th century seaports. Founded by the French in 1713, it fell under siege twice to the British before being demolished in the 1760's. This recreated fort will be a fascinating way to spend your afternoon.
Day 4
Start the short drive to Halifax after saying farewell to picturesque Cape Breton Island. You will have plenty of time to explore the Halifax waterfront. Check out the outdoor installations along the wharf, and investigate the boutique shops. Enjoy a harbour cruise by 'Land and by Sea'. This will allow you to get acquainted with Atlantic Canada's largest city. Enjoy dinner tonight on the lovely waterfront at Murphy's, on the water.
Day 5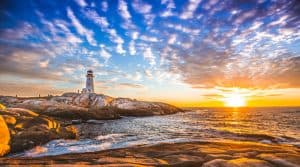 After breakfast, start a beautiful drive along the Lighthouse Route to Peggy's Cove, one of the most photographed sites in Canada. Take photos near the lighthouse for memory. But, be careful on the rocks!Drive on to Lunenburg, a UNESCO World Heritage Site. See the colourful buildings which dot the harbour and trace their heritage back to the German settlers who built the town. Visit the Fisheries Museum of the Atlantic, home to the famous sailing ship, Bluenose, depicted on every Canadian dime. Lunch will be on your own as there are many wonderful choices to make!After a hearty lunch, begin your return to Halifax.
Day 6
After breakfast, get ready to take in some history! Visit Grand-Pre, located in the heart of a UNESCO World Heritage Site. This National Historic site was once the epicentre of Acadian culture and is now the most significant memorial to their tragic upheaval. Admire the statue of Evangeline, a character in A Tale of Acadie. Be sure to stroll through the beautiful gardens and take in a memorial church marking the 17th century village.
Day 7
We suggest a late-day flight to enable you to enjoy your last few hours in Nova Scotia. Indulge in a delicious breakfast at the Halifax Market and enjoy the downtown area of Halifax.
ENQUIRE ABOUT THIS TOUR